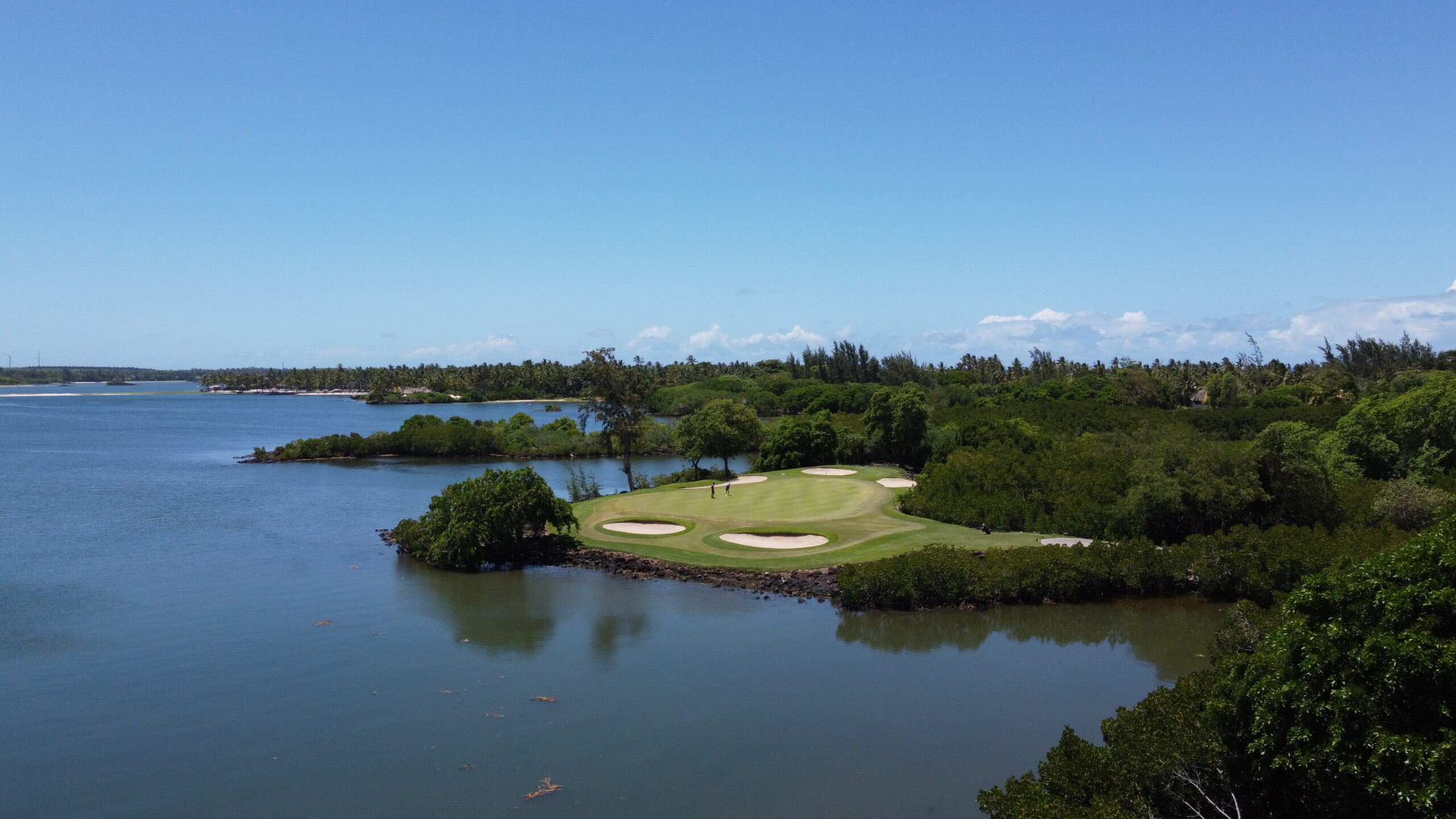 Constance Belle Mare Plage – Legends Course
Located on the East side of Mauritius, Constance Belle Mare Plage has two courses to offer.  A European Tour Destination, today we are playing and reviewing Legends course.
At around 30 years old, Legends is a nicely established course with large trees, plenty of water and a bedded in design that would works for most handicappers.
We particularly liked hole 17, a par three over the ocean with mangroves hugging the shore line.  Quite a different hole from the back to the front tees, but all tees had the over the water challenge.  At handicap 18, its one to hold your nerve playing 112 to 152 meters. 
From the forward tees, depending on the pin position, you might need to be mindful of the rocky outcrop in front of the green
We also liked hole 4, with its seemingly narrow fairway, edged by splashes of water on both sides to a well bunker guarded green.  This par 5 played 426/506 meters and carried a 5 handicap.  Thread you way around this hole and you could score well.
Whilst we did see people walking, we feel it was a cart course for the heat and for the sometimes longer walks green to tee.  
We played the back nine first, hence the reverse comments and YT Video views!!  
In Summary, you can see it is a resort course, but you can also see it has stood up well to the heavy golfing traffic and heavy rains of late.  We'd definitely like to go back and play it again and have given it a score of:
| | | | |
| --- | --- | --- | --- |
|   | Sarah | Steve | Average/given score |
| Welcome/Friendliness | 4.5 | 4.5 | 4.5 |
| Course condition | 4 | 4 | 4 |
| Course design/layout | 4.25 | 4.5 | 4.5 |
| Enjoyment/fun | 4.5 | 4.25 | 4.5 |
| Overall | 4.25 | 4.25 | 4.25 |
Full article to follow on travellifestylegolf.blogspot.com
Follow us on 
Instagram @Travellifestylegolf
Twitter @golf guru group (Travel Lifestyle Golf)
Facebook @golf guru group (Travel Lifestyle Golf)
You Tube @Travel Lifestyle Golf
travellifestylegolf.blogspot.com
Connect with me on LinkedIn @Sarah Forrest or @Steve Forrest