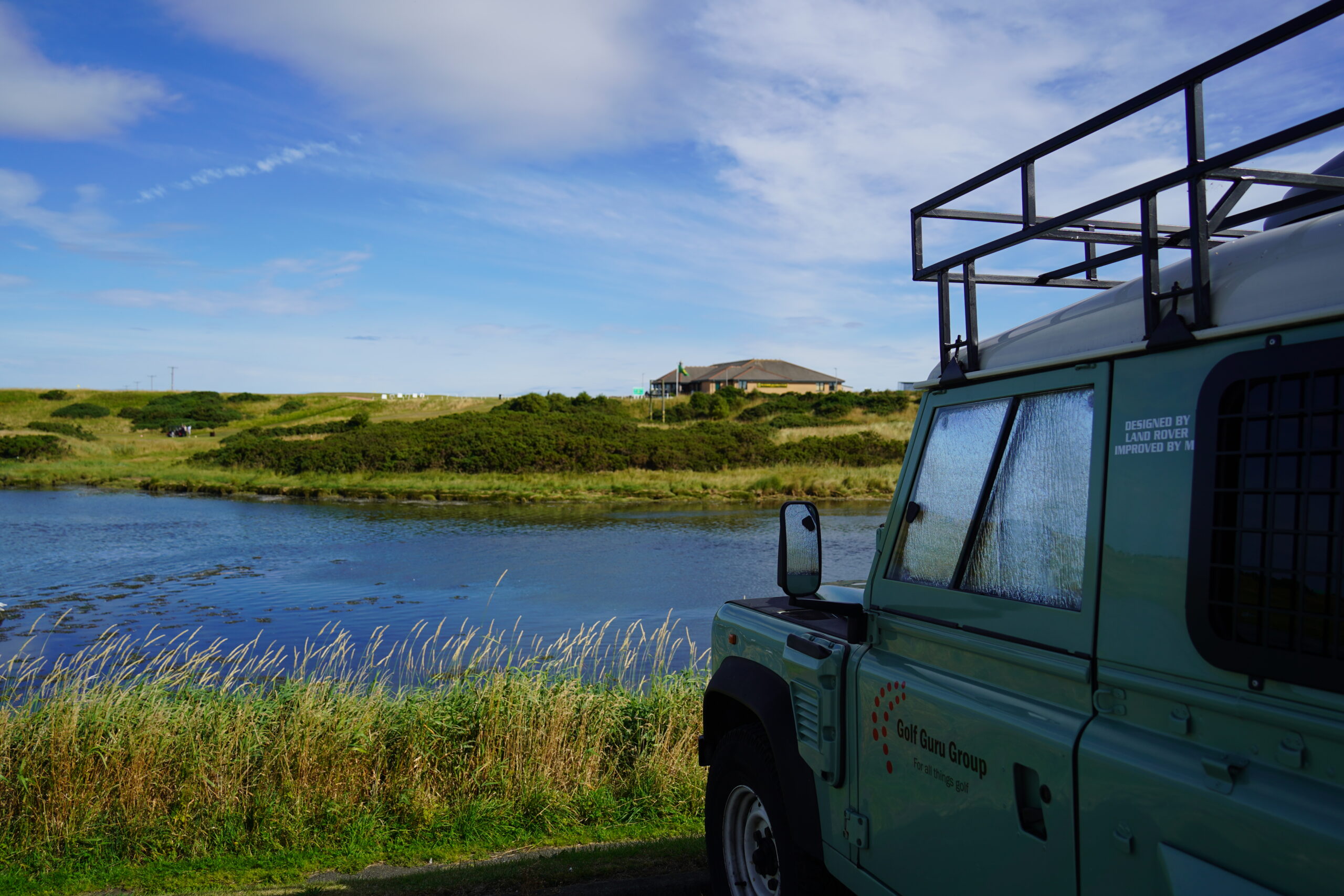 Peterhead Golf Club
Craigewan Links
Aberdeen
As the golf course comes into sight so does it access.   Unusually over a footbridge traversing the River Ugie to a low built clubhouse beyond.  You could be forgiven to thinking that this is a new golf club, and you'd be right, in some ways, and completely wrong in others.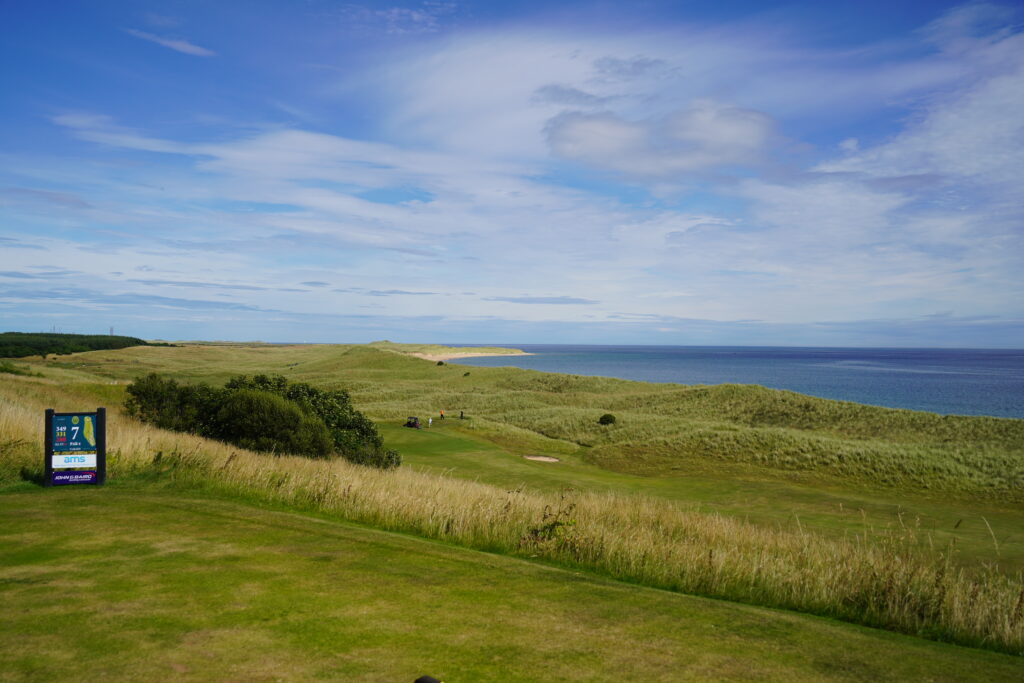 In fact Peterhead is the 18th oldest golf club and has a chequered history which includes land feuds, fire insurance claims (alleged), multiple re-built clubhouses and two new foot bridges all bringing the back story to life.   Erosion has played its part in shaping the current golf course too with the golf course being re-routed and the clubhouse being repositioned on more than one occasion.
An historic piece of land with multiple uses, including cattle and sheep grazing and some less obvious such as artillery range with the latter being the reason for a new hole being built to 'avoid inconvenience and danger when volunteers were shooting targets'  – there is no mention as to what the targets were!
Some traditions have remained such as the annual presentation of the Gold Medal which dates back to 1841 and is inscribed as having been presented by the ladies of Peterhead.  The clubs history has also shaped its membership numbers which resembles a heart beat monitor of peaks and troughs.  It is noted that the course condition seems to follow the trend of the membership – which makes perfect sense as money is either tight or in full flow.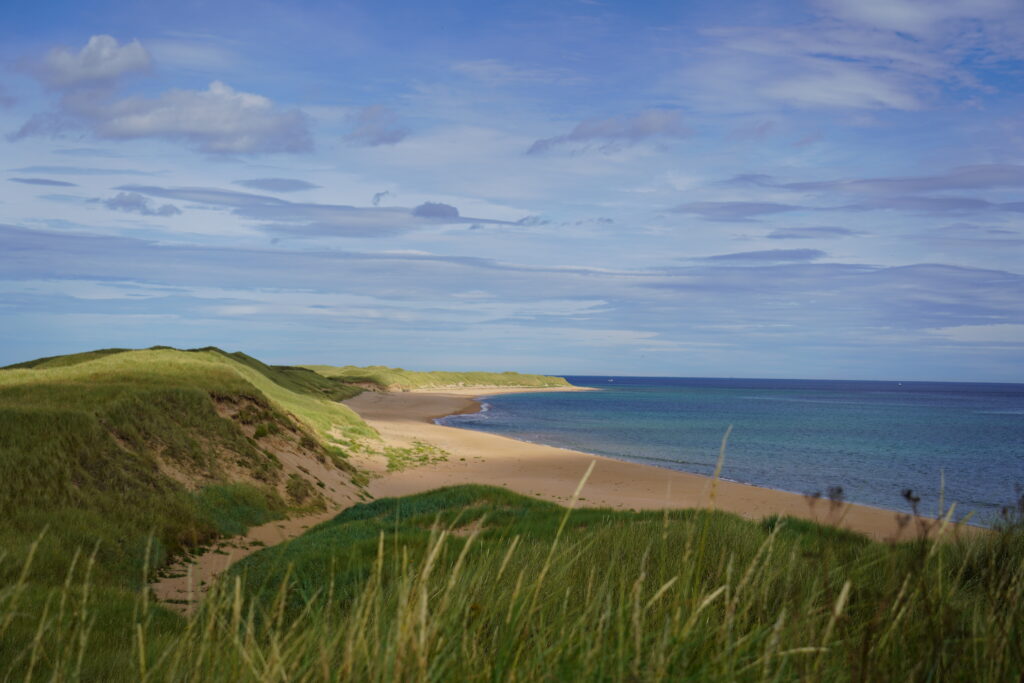 Peterhead was one of those courses that was enjoyable to play, not as sharp in places than neighbouring courses but when you understand its history, somehow the experience becomes more enjoyable.
Not quite as isolated as the lone footbridge would lead you to believe, there was a faint hum of traffic being present for the first few holes.
The welcome breeze as you climb the second, a par 3, to a recently top dressed putting surface.  The breeze was welcome on that hot sunny day, possibly not so welcome on a winters day when shelter would be sought for a different reason.  
When arriving at the forth tee, the landscape seems to change, taking on a more rugged links feel with the vast North Sea now in full view.  Nature working her magic on natural hollows adding more depth to the course as it plots its way around.  It is said Peterhead Old course is an original, owing little to man's heavy handed work in its creation.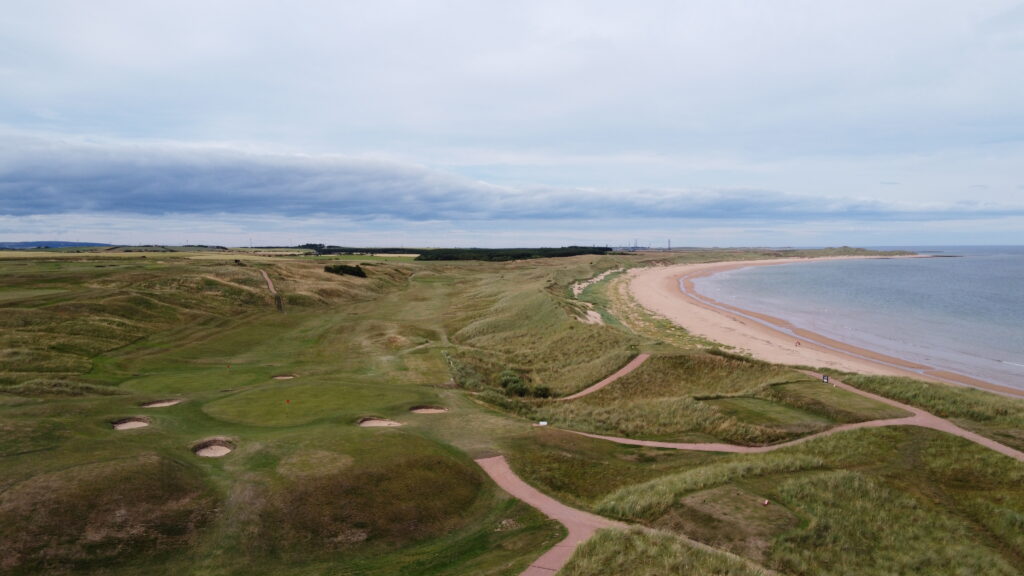 Fine sand sprays in your face as the ball comes cleanly out of the bunkers.  Sand clad and thinking of times as a child being given jam sandwiches on the beach – jam sandwiches with a dash of sand of course!
With the heat of the day, it felt like Death Valley as we transcended down between the hillocks.  and out of the wind from hole 9.  Whilst not a flat or uninspiring links course, the dunes were not huge hairy ones either.
But don't be fooled with the summer day we had, subtle reminders this is a links course are deep cut burns with ball retrievers so heavy, they themselves tell the story of the usual windy conditions.
Subtle shaped greens, not overly large in size made for some target golf.  No major undulations just gentle reads for the putt.  
The 17th, a short par 4 was as good as any hole.  Being a blind shot off the tee takes some nerve.  No brief glances or sneaky looks before you commit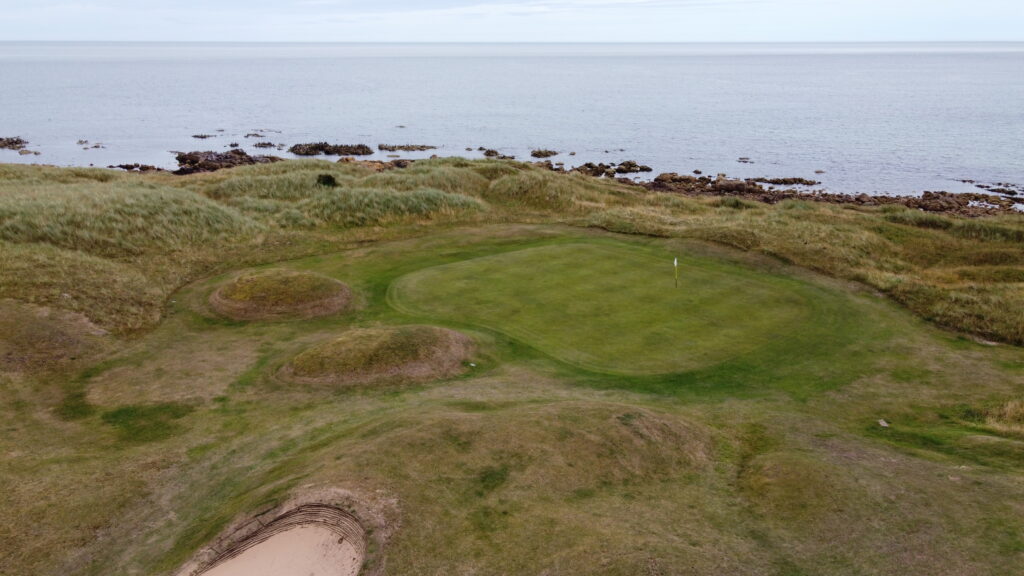 Despite the bare patches on the summer burnt fairways, the ball did react favourably – in the main anyway!  
Our experience of playing Peterhead has since been enhanced by understanding its back story and appreciating its current journey in its next steps of its evolution.  Peterhead is a survivor .  It might not be the big names of its neighbours but it does command  a place in golfing history.
Sarah Forrest
Golf Guru Group
Instagram @Travellifestylegolf
Twitter @golf guru group (Travel Lifestyle Golf)
Facebook @golf guru group (Travel Lifestyle Golf)
You Tube @Travel Lifestyle Golf
travellifestylegolf.blogspot.com