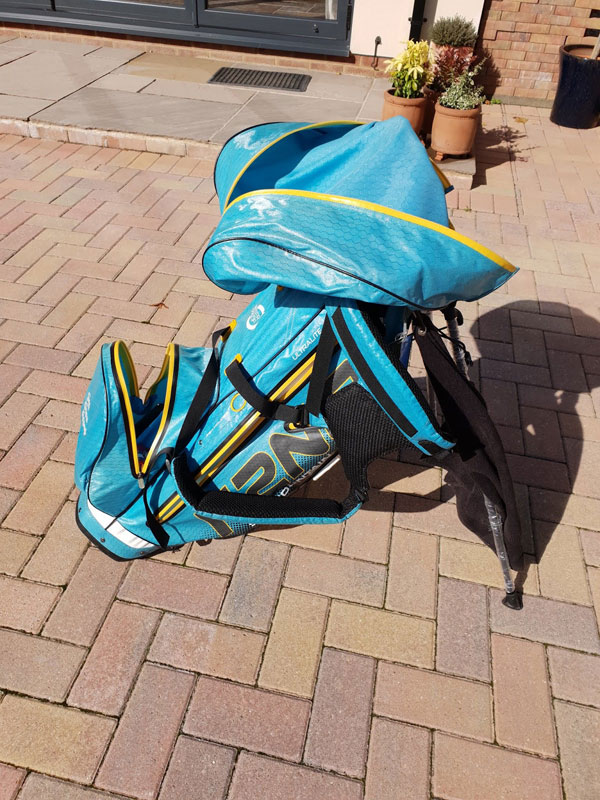 SUN MOUNTAIN ULTRA LITE GOLF CARRY BAG
2018 REVIEW
SUN MOUNTAIN GOLF BAGS JUST GET BETTER AND BETTER.
I FIRST REVIEWED A SUN MOUNTAIN BAG IN 2013, NOW 5 YEARS LATER I'M BACK FOR MORE. (2013 BELOW FOR INTEREST)
WITH SUBTLE YET FUNCTIONAL CHANGES THE GOLF BAG IS NOT ONLY AVAILABLE IN TRENDY COLOURS BUT HAS FUNCTIONALITY WHICH MAKE IT A GOOD ALL YEAR ROUND GOLF BAG TO OWN. I USE MY LITE WEIGHT CARY BAG MAINLY FOR TRAVELLING, BUT IT WOULD WORK EQUALLY WELL IF IT WAS THE ONLY GOLF BAG YOU OWNED. IT HAS BEEN USED IN BLISTERING SUNSHINE, IN COLD DAMP WEATHER AND IN FULL BLOWN RAIN STORMS WHERE THE 19TH HOLE JUST BECKONS! DURING THIS PAST YEAR, THE NEW BAG HAS BEEN BASHED AROUND THE LUGGAGE BELT, BEEN THROWN IN AND OUT OF COACHES, TAXI'S AND CARS, AND DROPPED MORE TIMES BY CARELESS BAGGAGE HANDLERS THAN I CARE TO MENTION, NATURALLY I USE A TRAVEL BAG, BUT THE CONTENTS DO GET SHAKEN UP AT TIMES!
MY FIRST MISTAKE WITH MY ORIGINAL BAG WHICH I USED FOR TRAVELING WAS TO GET A WHITE ONE – BIG MISTAKE, IT GOT FILTHY GOING ABOUT ITS EVERY DAY LIFE, MY NEW SENSIBLE HEAD HAS GONE FOR A COLOUR THIS TIME AND I LOVE THE COLOUR I HAVE CHOSEN, AQUA BLUE, NOT ONLY FOR ITS COLOUR BUT THE VERSATILITY AND DURABILITY OF THAT COLOUR TOO, EVEN ON A GREY DRIZZLY DAY THE BAG LOOKS SHARP AND READY FOR ACTION – MAYBE MORE THAN IT'S OWNER SOME DAYS!!
ANOTHER NOTICEABLE THING ABOUT THE NEWER RELEASE OF THE BAG ARE THE CARRY STRAPS, WHICH SEEM MORE PADDED, BUT HAVE A WAFFLE EFFECT TO THEM WHICH SEEMS TO STOP THEM TWISTING AS YOU THROW YOUR BAG ONTO YOU SHOULDER. WHILST I DO LIKE THE EXTRA PADDING WHEN CARRYING THE BAG, I AM NOT SO SURE ABOUT THE WAFFLE EFFECT WHICH IS A BIT SCRATCHY WHEN WEARING SLEEVELESS GOLF SHIRTS AS YOU DRAG IT UP YOUR ARM BEFORE IT COMES TO REST ON THE SHOULDERS, WHERE IT DOES SIT COMFORTABLY ONCE ON.
THE POCKETS ARE OF A GOOD SIZE AND WHILST BULGING DURING THAT IFFY SEASON OF WATERPROOFS ON WATERPROOFS OFF, THEY DO TAKE EVERYTHING A GIRL SHOULD NEED FOR GOLFING. THE POP OUT LEGS ARE STURDY AND SO LONG AS THEY ARE PROTECTED BY BEING HOOKED BACK WHEN USING THE BAG ON A CART, SHOULD LAST A LONG TIME WITH THE DURABLE MECHANISM IN PLACE.
A LITTLE VELVET LINED POCKET FOR THE BITS AND BOBS IS A NICE TOUCH BUT A BIT OF A NUISANCE WHEN YOUR HANDS ARE WET AND THE VELVET STICKS TO THEM AS YOU'RE IN AND OUT OF THE POCKET. THE BALL POCKET IS PLENTY BIG ENOUGH FOR EVEN THE MOST WAYWARD OF PLAYERS COLLECTION OF BALLS, BUT I DO THINK THAT THERE SHOULD HAVE A 2-WAY ZIP AS THE BALLS COULD FALL OUT WHEN CARRYING THE BAG IF LEFT UNOPENED. THE THREE WAY DIVIDER FOR THE CLUBS ARE OF A GOOD SIZE TO GET THE FULL SET OF CLUBS IN EASILY HOWEVER DURING WET GAMES I HAVE BEEN KNOWN TO INADVERTENTLY GROUP ALL MY CLUBS TOGETHER IN ONE OF THE 3 AVAILABLE DIVIDERS FOR EASE OF ACCESS CREATING A PICK UP STICKS MOMENT AS I PULL OUT MORE THAN ONE CLUB IN A HURRY TO GET OUT OF THE RAIN – USER ERROR!
WITH THE FRONT BALL POCKET BEING BLANK ENABLES EMBROIDERY OF YOUR COMPANY NAME, ALWAYS A GOOD BRANDING EXERCISE AND ONE I AM GLAD SUN MOUNTAIN HAVE THOUGHT ABOUT IN ADVANCE TO OFFER THEIR CUSTOMERS MORE REASONS TO BUY THEIR PRODUCTS.
IMPORTANT TO NOTE, THE WATERPROOF FEATURE ONLY WORKS IN CONJUNCTION WITH THE HOOD – MIGHT BE A SILLY STATEMENT TO MAKE, BUT I HAVE SEEN OTHERS PLAYING GOLF IN THE RAIN WITHOUT THE HOOD THEN COMPLAINING THAT THEIR CLUBS ARE WET!
HAVING A CARRY BAG IS ONE OF THE MOST USEFUL PIECES OF FLEXIBLE EQUIPMENT A GOLFER COULD OWN AS IT LENDS ITSELF TO PLAYING LOCALLY AS WELL TRAVELLING, WITHOUT COMPROMISE. THE SUN MOUNTAIN CARRY BAG IS NO EXCEPTION TO THIS, COMBINING STYLE AND PRACTICALITY
IN SHORT I LOVE THE SUN MOUNTAIN H2NO ULTRA LITE CARRY BAG AND WOULDN'T HESITATE RECOMMENDING IT TO GOLFERS.